The Medium outdoor kitchen
ByLogstrup outdoor kitchen is available in three models with one, two or three cabinets. The entire outdoor kitchen is made of weather-resistant materials that can withstand being outside in all kinds of weather, and you can store your things safely and dry in the tight-fitting doors with swivel closure.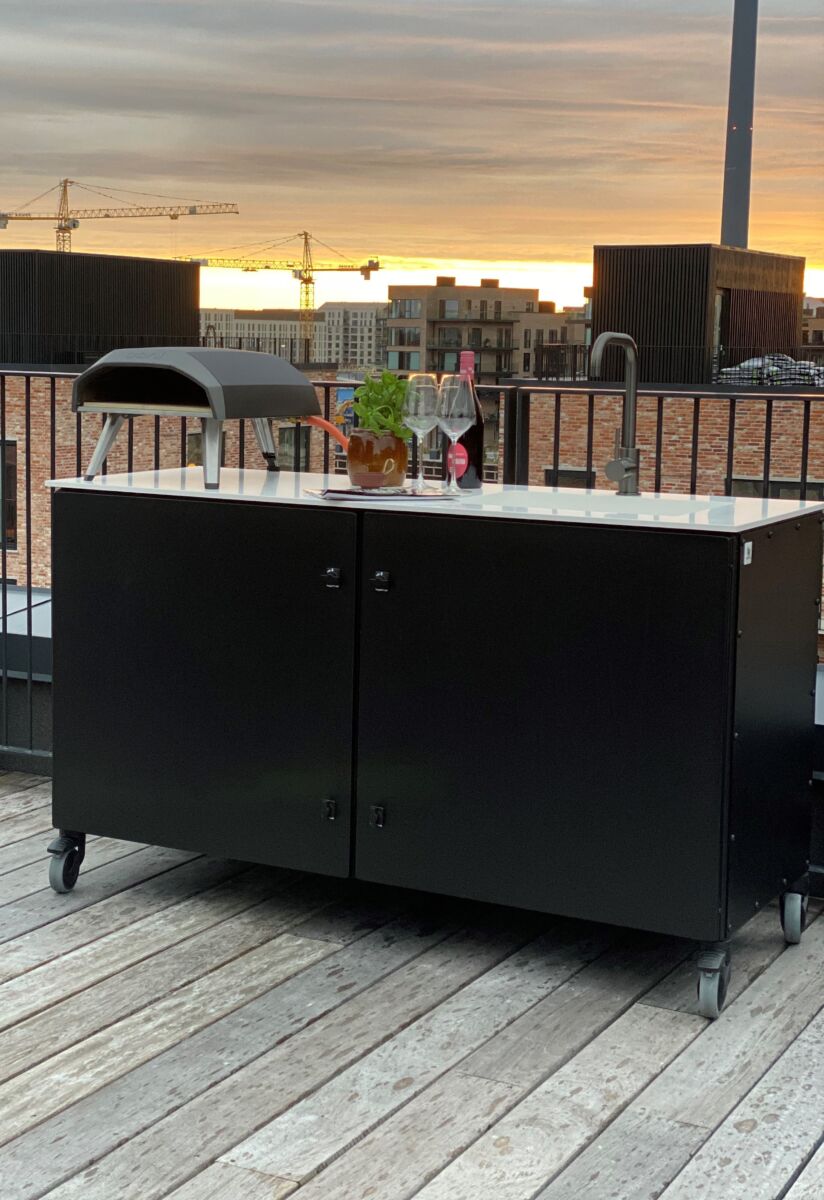 Model 2 measures 153,5Cm in width and weighs 110Kg.
There are shelves in all cabinets with the exception of the module with a built-in sink. The shelves can be adjusted in height as needed.
Choose from four colors: black (Jet Black), olive (Olive Green), gray (Mouse Gray) and dusty brown (Beige Brown). The table top is in white Kerrock®, which is a composite top that can withstand heat and is scratch and cut resistant, easy to clean and maintain.
ByLogstrup outdoor kitchen has wheels, so you can easily move it around for everyday life and for your parties, and you can combine several modules together. Now that we're at ease, the outdoor kitchen is maintenance-free, so all you have to do is clean it with a wet cloth, and it's ready to use.
You get a 2-year guarantee on your outdoor kitchen
There is a 4-year extended warranty on the sides, doors and countertop. This warranty covers unbroken surfaces
Contact us here
A good kitchen needs a good work area. The same goes for an outdoor kitchen, and you get that right here too. Although the design will suit every outdoor area, it is important that the kitchen's most important task comes to its fullest, and that it is nice, easy and functional to cook the most delicious dishes. Therefore, there is both space for barbecue and cooking on the countertop.
ByLogstrup outdoor kitchen brings joy to your outdoor life. It will be another gathering point in the household, and it is is created for cosy moments. It is created for people who love to be outside or people who want to get out more. ByLogstrup is not just an outdoor kitchen - it is perhaps the "only" right outdoor kitchen.
If you have any questions about ByLogstrup outdoor kitchens, you are welcome to contact us at info@bylogstrup.dk or on our contact page. You can also get answers to questions before and after buying an outdoor kitchen.